What is plastic injection mold?
Before we talk about plastic injection mold making process,Let's explain what plastic injection mold is first:
Designed as a hollow metal block with cavities, a plastic injection mold is used to give shape to molten plastics via the process of injection. Though you may not see them shown in the following figure, in fact, there are multiple holes made inside the mold to realize temperature control by way of oil, water or heaters.
A sprue in the mold allows the melted plastic to flow in, which will then fill the cavities through the runners and gates. After being cooled, the mold will be opened, and the molded parts will be further ejected by a push on the ejector plate by the ejector rod of the injection molding machine
Guide Pins– Installed to one half of the plastic injection mold and align the two halves by entering the holes in the other half. the most function is to locate the core and cavity insert in right position, avoid steps on parting line of molding parts or mismatch between two halves of molds.
Runner– Connect the sprue bush to molding cavities, it is a passageway of flow material, the section shape is usually round or trapezoid.
Gate–The narrowest position of the runner, where the flow material enters the molding cavity. There are many different types, some will be broken from molding part when ejecting out. such as submarine gate, tunnel gate. Some need to be cut after molding. like tab gate, side gate and so on.
Sprue (Bush) – Tapered hole in the center of the plastic injection mold into which the flow material travel from the nozzle of injection machine to runners
Locating Ring– Locating the plastic injection mold on the fixed platen of injection machines, so that the injection nozzle lines up with the sprue bush.
Mould Cavity(include cavity and core)– The space in the mold shaped to produce molding product.
The ejector (Pins)– Push the runner and molding parts out of the mold
The Shot– Total amount of material into cavities, include runner and molding parts
Ejector plate/Ejector backplate: Just for hold the ejectors in the right position
Clamping plate: Clamping the mold to the platen of injection machines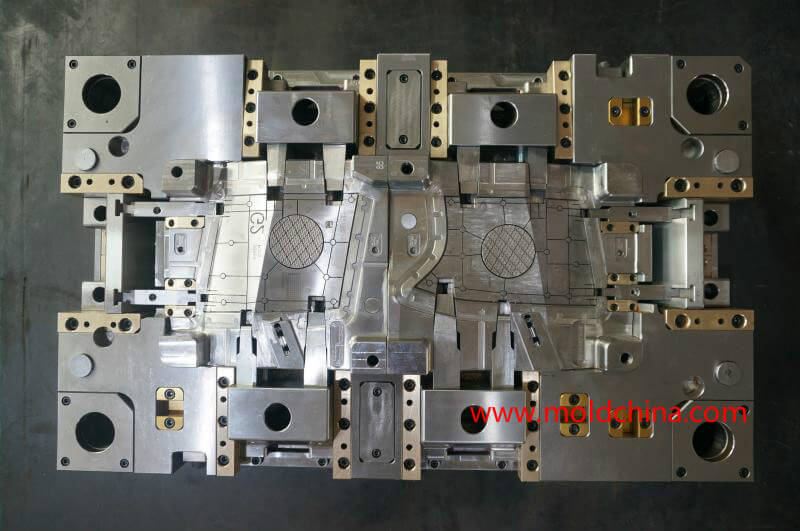 Why we choose plastic injection mold(molding)?
1) High precision
As a highly accurate processing approach, the plastic injection molding process is able to be used to produce diversified plastic parts of almost any types. Though certain design restrictions do exist, the injection molds are made to ensure the great precision of the molded products. As a matter of fact, the precision of the finished products can be kept within 0.005in.tolerance.
2) High efficiency
Plastic injection molding is known as one of the most commonly used technologies for long production periods because it is very fast. But, how fast? Though its production speed may be dependent on the complexity of the mold structure, there is only about 15 to 30 seconds interval between cycle times.
3) It saves the labor cost
The injection molding equipment requires minimal human supervision, of which the reason is that they usually work with a self-gating and full automatic tool, so as to realize streamlined operation and continuous production.
4) Highly resourceful
Nowadays, a lot of attention is paid to sustainability, so it is very common for product developers to opt for a process that would help with environmental protection and waste elimination. Not only is the plastic injection molding a highly efficient and effective process, it is also very resourceful. The reasons are i. only the needed amount of plastics is used to produce the desired product; ii) excessive materials will be recycled for further use.
5) It's flexible
In addition, the plastic injection mold making process is not only accurate, it also features great flexibility. It means that it is very easy for us to change the material type as well as the color for our production once we made a mold. also when you want to change the shape of the product, we just need to remove or add some steel to achieve it.
6)Lighter and cheaper
The density of the plastic material is much lower than metal, and plastic injection molding is one-time shaping process without second machining. so it is much cheaper than metal.
The whole process of plastic injection mold making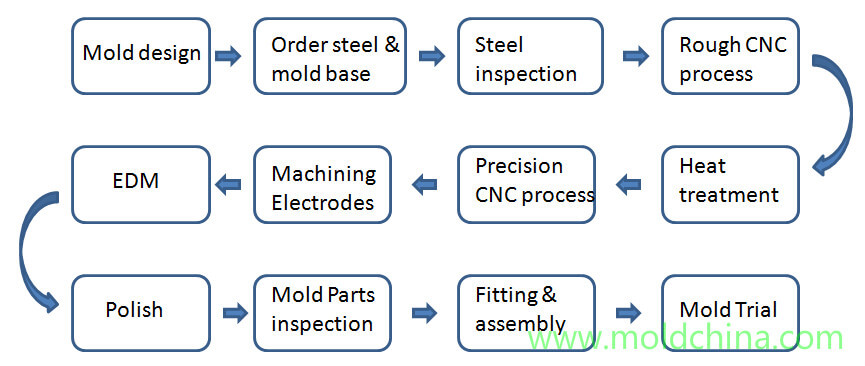 The standard of plastic injection mold:
Mold Steel: ASSAB(Sweden), DAIDO(Japan),FINKL(America),AUBERT & DUVAL(France), Thyssen(Germany), LKM (China)
Mold Base: EMP, DME, HASCO, FUTABA, LKM.
Hot Runner: MOULD MASTER, SYNVENTIVE, HASCO, DME, YUDO, INCOME
Latch Lock: DAIDO, HASCO, STRACK, RABOURDIN
Standard Parts: DME, HASCO, LKM, HEB, STRACK, OPITZ
Texture: VDI 3400, Mold-tech, Yick Sang, Tanazawa etc
Mold design:
The high-quality plastic injection mold making is the core business of Sositar. We have 10 special mold designers, who have rich experience in plastic properties and mold structure, offer high-end custom plastic injection mold making service for over 10 years. And they will take each case seriously, before designing start, our designer will run Mold Flow Analysis and attend a technical meet for each mold with tool shop and injection Dept. to avoid potential manufacture problem and troubleshoot. all of this is the strong guarantee of our high quality and short lead time
Our design team will provide:
Industrial Design
Appearance Design
Structure Design
Mold Design (2D & 3D)
DFM (Design for Manufacturability)
Mold Flow Analysis
Mold Flow:
Quality products and services at the lowest cost and in the quickest time. A universal standard that every company must follow to compete in today's markets. Every molded plastics part must run smoothly through product design, tool building, tryouts, manufacturing, assembly, field applications, and over the life of products. Our expertise in CAE (computer-aided engineering) in conjunction with the experience of hundreds of molded products provides a valuable link to reach the goal of producing quality products at the lowest cost and in the shortest time. Our engineers will analyze for mold filling, cooling, and warp (deformation) … for every part with the tooling design as well as scientifically validating key steps to make your product a success – designed and built right the very first time. Our unmatched expert approach to every project provides the best value in the long term and will save you cost and time.
Engineering:
We provide a wide range of services to help clients with all of the front-end work that goes into a product before actual production begins. Some of those services include preliminary design, material selection, pricing, mold design, evaluation and procurement, CAD/CAM, surface modeling, and communication with the customer's engineering department. For each part, we manufacture we will do the DFM study and mold flow analysis which will improve and support the mold structure design.We bring you a combination of the best resources available; high technology equipment, quality workmanship, and program management and product development techniques that are flexible enough to meet the needs of your special requirements that can assist the molder or worker and save time and cost
Project Management:
Project management is the key to the success and quality of the products ,A Project Engineer who has rich knowledge in tooling and plastic injection molding is appointed for each project. All of them have a good command of English.
The project engineers will be responsible to follow up tooling schedule and timely report to the customer on any issues and progress of the project he is handling. The project engineer also guarantees that customer's technical requirement is followed.
Project Management Objectives
– On-Time Delivery– Assuring customer's project is produced to customer's standards and requests
– Anything communicated in a timely and clear way
– Complete project management and support from concept to final part inspection and approval.
The software we use:
Our engineer mainly used the following software:
Pro/ENGINEER
SolidWorks
AutoCAD
Moldflow
MasterCAM
Unigraphics
Animatronic
Surfcam
CATIA

Sositar Mould Co., Ltd offer world-class custom mold manufacturing service, feel free to contact us!